1997-2004 Citroën Xsara
Blandness and the bare blonde
What does one want from a compact car? Inertia-reel, height-adjustable seat belts? An alarm warning that the key has been left in the ignition? Tell-tale child locks on the rear doors?
When these features are celebrated at a car's launch, as thoughtful as the design team has been, it is fairly clear that the show is over before it has begun.
And when a Citroën is launched in such fashion, it's high time to declare that PSA's ownership of the brand is verging on the criminal.
Francophonic name and dutiful Chevrons apart, little inside or out gave any indication that the Xsara was from the company once responsible for some of the most technologically innovative and characterful cars in the world.
Jealousy, or economies of scale?
With the 1997 Xsara, things came to a head. Since acquiring Citroën in 1974, Sochaux had kept an increasingly tight leash on its engagingly wayward charge. Xsara was the abject manifestation of this. Little inside or out gave any indication that this was the great-granddaughter of the genial 1970 GS, or in any sense a car from the same people who had given the world such innovative cars as the Traction Avant and DS; other-worldly pods like the SM and CX, or the characterful budget transport that had been the 2CV, Dyane, and Ami.
Some said it was down to jealousy; had Peugeot not crushed a gaggle of gloriously complex SM coupés upon taking Citroën over, declaring them "unsaleable?"
Others talked of rationality forced by economies of scale and the "sober realities" of the global market.
Certainly, Xsara was an important car. The "lower mid-range" segment accounted for 4 million European sales in 1996, 31% of the total market. 80% of this was shared between Germany, Britain, France, Italy, and Spain.
Citroën was convinced that its heritage meant nothing to its potential customers. Consumers, research found, had become less interested in learning about brands, and more adept at avoiding the devices and strategies employed by advertisers to get their attention.
So, to get the market's attention, Citroën resorted to the most base device of all.
Manufacturing an image
The use of sex in advertising changed dramatically in the '90s, according to Australian University of New England professor Gail Hawkes. "Under the pressures of close competition for very similar products in the world market," Hawkes writes, "globalizing capitalism recognized the necessity to use the power of sexual imagery in new ways."
Whereas items such as the Pirelli calendar had used sex to attract male attention, in a specific and enclosed, secluded context, to products related to blue-collar male work, the new decade saw explicit sexual imagery appearing on prime-time television, billboards, and mainstream magazines of all genres.
Cars, Hawkes points out, were now "sold to both sexes not by their mechanical features but by the pleasurable sensations experienced through bodily contact with them."
Most interestingly, Hawkes suggests that the trend began when Claudia Schiffer performed an elegant striptease and threw her lace knickers out of the driver's window of a Citroën Xsara.
Citroën, again, was a pioneer. Of sorts.
Though consumers were increasingly cynical about the advertising that assailed them, sex rendered them powerless. Processing it required no attention, resulting in implicit learning; i.e.: if we put a supermodel next to a car, the two will be associated. And the use of sex to sell a car could draw attention to the car itself, resulting in explicit learning; i.e.: there's a new compact Citroën in town.
Citroën's marketing team, prepped to emphasize sensuality rather than specifications, was fairly thrilled with the news that they'd be promoting a car called the "Xsara." Such an engagingly Francophonic, feminine appellation!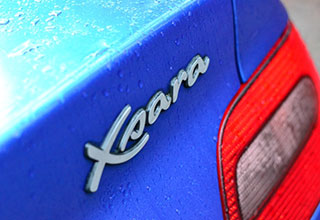 Citroën's marketing team, prepped to emphasize sensuality rather than specifications, was fairly thrilled with the news that they'd be promoting a car called the "Xsara."
"Xsara" continued a tradition of sorts that Citroën names (where the company had chosen to apply names) ended in "A" - Athena, LNA, Visa, Xantia. Credit for the name, Citroënet's Julian Marsh suggests, goes to Pierre Bessis, also responsible for "Citroën Xanae" (a concept), and Renaults "Scénic," "Clio," and "Mégane." For Bessis, Xsara conjured up images of the queen of Babylon, mating femininity with "Xsar" or "Tsar," connoting unbridled luxury, and "Sahara," which implied a long distance journey (Citroën, at one point, reportedly contemplated a 4x4 version).
Far from road rage, gridlocks, accidents, and breakdowns, "Xsara" got back to the business of selling dreams and loose promises.
But when the marketing team clapped eyes on the final product, they cannot have been too pleased.
Contrary to its feminine, engagingly Francophonic appellation, Xsara was fairly dowdy and, at the rear and particularly in coupé form, not a little dumpy.
The compact car they were charged with selling was fairly dowdy and, at the rear and particularly in coupé form, not a little dumpy. Selling a mundane car in this most mundane of segments, from a manufacturer hardly known for such predictability, would be a challenge.
Still, if the designers and engineers had not been inspired to improvise, the advertising people would have to compensate. If there was nothing about the Xsara to arrest the male gaze, nothing particularly dreamy or sensual about it; well, they'd just call in Claudia Schiffer and charge the company £3 million for the privilege.
The German supermodel bore an uncanny resemblance to French sex symbol Brigitte Bardot (also once connected with Citroën). Schiffer had flogged Revlon, Chanel, and L'Oreal cosmetics; Ebel watches, and Ferrero Rocher chocolates. To credibly stand behind a nondescript compact Citroën, the tall blonde would have to provide all the on-screen sensuality she could muster.
Would you really buy a car because a well-known model decides she doesn't need to wear her expensive lingerie when driving it?
And so, in May 1998, television screens showed her walking down the stairs and entering her Xsara, progressively taking all her clothes off before driving away naked; because, apparently, "the only thing to be seen in is a Citroën Xsara coupé."
Nondescript compact causes quite a stir
Britain's Independent Television Commission, used to receiving about three complaints per ad, received a full one hundred and twenty-one, complaining that the Citroën spot was degrading to women; that it was sexist, and that its gratuitous use of a woman's body was unacceptable.
Surprisingly, Spain was even more offended, although the reason for this became evident when it was revealed that most of the members of the country's Advertising Observatory, who intervened to prevent the ad from being run, were women.
It's not clear whether the response would have been quite so harsh if the Xsara had offered at least a modicum of the sultry seductiveness of its co-star. Indeed, there was little evidence of a feminine touch to the Xsara's lines, which even Citroën described as a "robust."
But in the end the dichotomy worked, and the ads achieved exceptional levels of awareness. The experience recalled a period line by Chrysler's outspoken outgoing vice-president Bob Lutz that, to sell a robust, masculine vehicle like the Dodge Ram pickup truck, one put not a builder, but Cindy Crawford, in front of it.
For the record, the ITC did not uphold the complaints, remarking that "the nudity in this light-hearted, tongue-in-cheek advertisement was not explicitly filmed." Most viewers, it noted, "would not share the complainants' view that the tone of the advertisement was unacceptably offensive, degrading, or sexist." The Spanish authorities, too, relented.
If you thought that all the fuss and high retention levels would translate to sales, you'd be wrong.
One Spanish female journalist hit the nail on the head when she asked, "would you really buy a car because a well-known model decides she doesn't need to wear her expensive lingerie when driving it?"
If you thought that all the fuss and high retention levels would translate to sales, you'd be wrong
As authors Flemming Hansen and Lars Bech Christensen explain, "when the Citroën Xsara ad featured Claudia Schiffer taking off her clothes, implicit memory would have stored her and linked her to the Citroën Xsara... implicit memory would have stored the concept 'striptease' and linked it to the Xsara.
"But what implicit memory cannot do is reason; i.e.: work out conclusions, which need to be interpreted. Implicit memory is subconscious and simply cannot make use of the full range of working memory which we use when we are actively concentrating... it cannot analyze and understand complex messages in advertising.

"It cannot work out that Claudia Schiffer is taking her clothes off because the Xsara is so well-equipped 'it's the only thing to be seen in.'"
Hansen & Christensen go on to note that the evidence from research was that both these messages were unknown to the vast majority of TV viewers. "Unless you understand why Claudia Schiffer is taking her clothes off, then all you are left with is the rather dated sexist concept of using scantily-clad models to strip in order to sell cars," the authors conclude.
"How motivating this was can be judged by the reported lack of sales success of what was apparently an extremely well-equipped car."
Humdrum hardware, albeit tuned with typical thoroughness
Underneath, like all Citroëns since the 1980s, the Xsara rode on Peugeot corporate hardware. It was a rework of the Citroën ZX (which, to be fair, had come before the Peugeot 306 it had spawned). As with the ZX, Citroën had been permitted neither to install its trademark hydraulics nor to tweak the suspension to something approaching genuine brand character.
That said, putting aside expectations of what the Citroën brand stood for, a Peugeot platform and suspension was not an entirely bad place to start. If it was not the most fluid of designs, the Xsara did have fluid handling, thanks to a rear axle design shared with the much praised Xantia.
On a conventional rear suspension system, the lateral forces experienced during cornering caused the rear wheels to steer slightly in the opposite direction to the front wheels, causing a destabilizing effect on the car. But the rear axle of the Xsara, as in the Xantia, acted to make the rear wheels steer slightly in the same direction as the front wheels. This movement, up to a possible 3 degrees, gave a significant improvement in roadholding and handling.
Peugeot handling guru Jean Baudin always said that the way the rear suspension behaves has a vital effect on how a car steers. Channel the forces the right way and you can have a car eager to respond to a driver's inputs, a car whose trajectory is finely controllable on the accelerator as much as with the steering wheel.
75-horsepower 1.4-liter gasoline and 68-horsepower 1.9-liter diesel models could hardly make use of such a chassis, but the XU 90-horsepower 1.6-liter and 103/ 112-horsepower 1.8-liter gasoline Xsaras (badged VTR) were reasonably fluid drives, and the 90-horsepower 1.9 TD turbodiesel made a case for itself in the burgeoning diesel market.
So the Xsara gripped well, handled with a modicum of adjustability, and offered comfy seats as a token reminder of what the brand stood for. Certainly, they were a sight better than those in the 2003 C3.
Xsara VTS so very nearly special
For more enthusiastic drivers, but the prize of the range was the first sporting Xsara, the VTS, powered by the same 2-liter, 16-valve engine as in the Peugeot 306 GTi, developing 167 horsepower and with the option of an automatic transmission. On the road, however, even the VTS, despite the awesome threat of its on-limit lift-off oversteer, could not remedy the Xsara in the eyes of enthusiasts. It was not a bad car, but it lacked flair or indeed any unique selling points. The brakes were reasonable enough, but the steering felt heavy and lifeless.
But if Citroën could use Claudia Schiffer to sell soporific cars, it also had French rally sensation Sébastien Loeb to make its chassis seem quite extraordinary. In that regard, if in few others, the Xsara was a return to some very special roots.
Citroën's first major involvement in rallying came about after a PR man took a gamble and lent one of the firm's revolutionary ID19s to Paul Coitelloni for the 1959 Monte Carlo Rally. He won the event and Citroën's competition department, under the legendary Rene Cotton, was born. The big Citroëns were good at long distance rallies such as the Liege-Sofia-Liege and Moroccan Rally, but they also won in Corsica, regularly won Coupes des Alpes and, controversially, won the Monte Carlo again in 1966 when BMC was excluded.
By the time the WRC was created in 1973, Citroën was a bit outclassed. The factory tried first the V6 SM and then the 2400CX, but made little impression. The Group B BX 4TC in 1986 was a disaster, and the program lasted only a few rallies. The mini-Group B program with the Visa Mille Pistes 4x4 did rather better.
When Citroën inherited the Rallye-Raid program from Peugeot in 1991, it was the start of something big. Using two-liter, Group A kit cars, Citroën developed the Xsara WRC, which became the WRC benchmark.
The roadgoing Xsara had as much to do with its 300 bhp, six-speed, four-wheel-drive WRC counterpart as it was likely to be Claudia's choice of coupé, but Citroën made its £35 million annual rally budget count. As rival Ford cut back, the Xsara won the World Rally Championship in 2003, 2004, and 2005, becoming the first Citroën ever to win, while Loeb three consecutive driver's championship titles from 2004 to 2006. Also driving the Xsara WRC were the celebrated Carlos Sainz and Colin McRae.
Packaging, functionality, fit, and finish
Bertone's sleek Xantia of 1993 had set the template for the Citroëns of the '90s. The Xsara aped some of the cues of its larger sister, but the sleekness was lost. The point of Xsara's sheetmetal was space, not sexiness, and its purpose was to envelope one of the largest interiors in the class.
Sure, the Xsara looked more oval - and thus more modern - than the ZX it replaced. But functionality and packaging were the Xsara's key selling points.
Fit and finish, always an issue with the ZX, was improved. Citroën boasted of phased interior lights, a rear parcel shelf which stowed away in the trunk lid, a driver's footrest, and boot-lid gas struts (standard equipment, one should point out, on every Yugo ever built). To be fair, every Xsara also got power steering, with a steering wheel adjustable for both height and reach, central and remote locking (a fairly rare standard feature among European compacts in 1997), air conditioning, and an indicator showing the distance to be covered to the next service. ABS became standard equipment in 1999.
And whether in hatchback, coupé, or wagon forms, this car boasted a spacious layout; figure a trunk of 408 liters and, in coupé form, the ability to seat, if at a pinch, a genuine five passengers.
Epilogue
Over the Xsara's life, through 2004, Rover's 200 and 400 went from mainstream British top-sellers to niche cars; Mazda's 323 became a player when it morphed into the sporting Mazda3, and Volkswagen's Golf became the new standard for interior quality in the compact class.
The Golf had the conservative end of the segment long sewn up. Conservative buyers who were not partial to it had the Opel Astra to look forward to. Those who placed reliability at the fore bought a Toyota Corolla or Honda Civic, with the Nissan Almera looking on as an outside bet.
As a challenger with the benefit of a heritage of innovation, Citroën should have been trying to do something different. Like Ford, for instance. The humdrum Escort evolved into the 1999 Focus, a sharp design and a sharper drive. Renault for 2002, launched a Mégane that buyers loved and others hated; Honda (in Europe) did the same for 2006. Fiat, on the other hand, was not such a quick learner, replacing the oddball Bravo/a with the Stilo, a Golf facsimile that ignored the basic truth that no one walked into a Fiat showroom looking for a Volkswagen.
And what was true for the Stilo and Fiat, also held for Citroën's Xsara.
A mundane appearance did not mean an uneventful ownership experience. In a 2001 survey, J.D. Power & Associates placed Xsara 89th in quality among 138 models.
photo: alpha deux cents
More to the point, survey results dashed Citroën's hopes that buyers would link Xsara's mundane appearance to a sound and predictable ownership experience. In 2003, following interviews with more than 24,000 owners of cars registered between September 2000 and August 2001, J.D. Power & Associates placed Xsara 89th in quality among 138 models, together with the Daewoo Leganza and Hyundai Coupe, significantly worse than the 58th place secured by the Peugeot 306 (whose platform it shared), and well under the 6th-place Corolla (the segment leader), 7th-place Škoda Octavia, and 13th-place Honda Civic.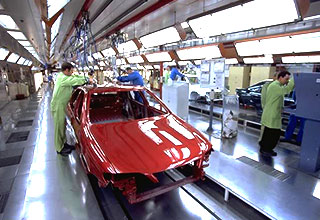 Among Xsara's quality woes was paint that seemed easy to scratch and may well have been too thinly applied.
As with most such surveys, the reality was not quite as dramatic. Xsara's key issues were the electrical system (airbag lights, instrumentation, engine management control on gasoline models, indicator switch), short brake life, paint that seemed easy to scratch and may well have been too thinly applied, and the delicate suspension components typical of French cars of this era.
What did Citroën stand for in the compact class? The Xsara could boast neither innovation, nor did its reliability stand out, nor did it hold its value well.
Nonetheless, the problem was clear. The compact Citroën could boast neither innovation, nor reliability, nor did it hold its value well at all; which begged the question, what - apart from considerable discounts - did Citroën stand for in this class?
Citroën's worldwide sales were up, and the brand accounted for almost half of PSA's total sales. But in France it was a different story.
Back when it had launched the Ami 6 break in the mid-60s, Citroën had controlled as much as 30% of its home market. In 1980, that figure was halved; and in 1998, Citroën took just 11.6% of French car sales.
The Citroëns LN (1977), LNA (1979), AX (1987), 1991 ZX (the Xsara's direct predecessor) and Saxo (1996) had all been fairly dull rebadges of subcompact and compact Peugeot models. And if those cars had been steps in the wrong direction, the 1997 Xsara was unnecessarily relentless in its display of how severely the PSA Group could erode and evade Citroën's core brand values.
Of greatest concern was that Citroën had misread the market. By the millennium, following a host of consolidations in the industry, most carmakers were launching a renewed push to develop brands with strong, individualistic characters.
Jean-Martin Folz, previously managing director of PSA's automotive division, ascended to the chairmanship in 1997, replacing the long-serving Calvet. He'd once been general manager of the food group Eridiana Beghin Say, so his car-guy credentials were at least as questionable as his predecessor's. But he recognized that PSA was in danger of going against the grain in a most undesirable sense.
Folz in 2000 decided that Citroën should return to the individualistic style of the past. According to the new mission statement, "PSA/ Peugeot-Citroën will launch attractive Peugeot and Citroën vehicles with different personalities that draw upon the Group's innovative capacity and bring customers attractive, high-performance cars that respect the environment."
Plans were made for a new compact, the C4. It would herald a completely new approach, one more worthy of Citroën's heritage.
While Peugeot was about to turn the delightful 306 into the staid, heavy, but spacious 2001 307, Citroën's new compact was four years away. In the interim, Folz tasked his stylists with the difficult job of giving the Xsara more character.
A facelift for 2001 linked Xsara to the Picasso people mover and the new C5. Hood, bumper, and headlights made for the same unfortunate, goggle-eyed stare as that pair's. Other changes included a wider track, variable power steering for better fuel economy, larger wheels, a new rear hatch, and minor interior tweaks including four standard airbags and optional side curtain airbags. The 1.4-liter gasoline and 1.9-liter turbodiesel engines were carried over, but the 110-horsepower 1.6-liter gasoline and 2-liter HDI diesel motors were new. A detuned version of the 2-liter gasoline engine, rated at 137 horsepower, debuted in the VTS range.
The Citroën GS, the compact that had established expectations for Citroën in the segment, turned 33 in 2004. As did Claudia Schiffer, now married.
That year, Xsara, GS' great granddaughter, gave way to the C4. Citroën and Claudia went their separate ways.
But the Xsara lived on as the Xsara Picasso, an MPV rival to the Renault Megane Scénic pioneer and leader, built in 1,736,727 examples over an 11-year period. It had individual seating for five in a body which offered both flair and functionality. Xsara Picasso succeeded where the Xsara had failed; and where Peugeot, too, was flailing. Peugeot was perhaps too conservative to make a smooth transition to tall, MPV-like cars, and its 307 felt heavy and lethargic to boot.
But Xsara Picasso, on the back of an inspired advertising campaign that featured recalcitrant robots, became, in 2002, Britain's top-selling MPV.
On balance, the heavy, tall Peugeot 307 was more detrimental to Peugeot than Xsara to Citroën. 307 made every Peugeot for a decade both visually and dynamically heavy, while Xsara gave birth to the successful and endearing Picasso.
photo: Lady Wulfrun